TRAVEL ON YOUR MIND?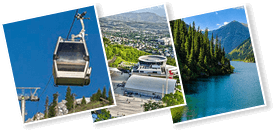 BARS
A good bar is a valuable thing. And Almaty has lots. You'll find everything from Irish pubs where you can catch the latest soccer match over a game of darts to chic club-like lounges, to upscale business bars.
On the relaxed end of the spectrum, you'll want to stop in at Line Brew or Mad Murphy's. Line Brew offers an excellent selection of Belgian beers and will roast your shashlyk over an open fire. Mad Murphy's offers hearty stouts, billiards and a true Irish bar feel.