TRAVEL ON YOUR MIND?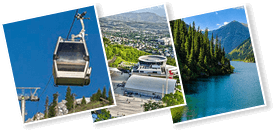 KARAOKE
You're a superstar, that is what you are! You wouldn't necessarily think it, but Kazakhstanis are surprisingly into karaoke. And they're good at it. Really good. Hot 2 Be is the place to go for a serious sing-along, so the tone-deaf need not apply. You can either join the main hall – where you sing in front of your friends… and the rest of the bar – or head to a private room (we know which we prefer). The private rooms are great for performing in without judgement, but if you want to watch how a Kazakhstani belts one out then head to the main hall for fun and frolics. Wherever you decide to enjoy the action, Hot 2 Be lets you knock back a few delicious cocktails and be a star for the night. It's time to release that inner diva!
Isteria Karaoke bar is a popular venue in Almaty, Kazakhstan. With their 2 entertainment halls and separate karaoke booths, a night out in Almaty becomes unforgettable. In the complex' restaurant, slow background music is playing from ATEO4 loudspeakers, powered by a COM24 amplifier with CMP30 sourcing. The second hall hosts the main karaoke area, which is equipped with PX112MK2 loudspeakers, combined with SX12 bass cabinets providing a greatly dispersed and powerful sound system. For monitoring purposes, a pair of XENO8 speakers adds the sound on the stage. Several separate karaoke booths are divided into two categories, depending on room size and capacity. XENO loudspeakers and SX12 subwoofers are installed in the smaller booths, while the bigger rooms run on PX112MK2 speakers allowing customers to have a true full range sound experience in each area. Every booth is powered by DPA amplifiers and controlled by a PMX124.